ELENA

PEDRETTI
LOCAL GUIDE OF COMO, TRANSLATOR, INTERPRETER, TOUR GUIDE OF LAKE COMO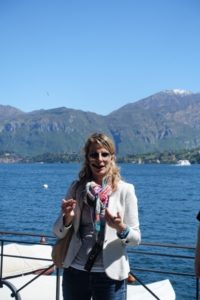 Elena has developed a long experience with foreign languages and tourism.
After she got her diploma by the Liceo Linguistico Casnati (Language High School) in Como, she continued studying modern languages at the Secondary School for Interpreters and Translators in Como; in 2001 she presented a technical glossary and took her degree as "Interpreter and Translator".
She started her career in 2001 as a tour guide and she handled more than 100 tours all over Europe, improving her knowledge of English, German and Spanish.
During the following years, Elena went on working both as a TOUR GUIDE and as an INTERPRETER AND TRANSLATOR on different projects. In her spare time she has always cultivated her passion for art, architecture and history.
In 2007 her great bent for foreign languages, her experience in tourism and her strong bond with the territory spur her on becoming a licensed LOCAL GUIDE OF LAKE COMO.
From 2008 to 2010 she was president of the Local Guide Association of Como.
Since 2009 Elena is the translator of the official magazines of Lake Como: Magic Lake and What's on, quarterly printed in 30.000 copies.
In 2015 she started studying Portuguese and learning this new language turned to be a new exciting job experience, now she also works with Portuguese speaking tourists and she keeps on studying to improve her language knowledge.
In 2020 she went on with her professional training and obtained a Master's degree in Specialist Translation in the medical sector at SSIT in Pescara.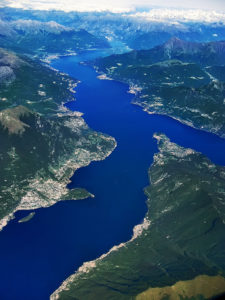 After having gained experience in tourism at European level thanks to her job as tour guide and interpreter and after having developed a deep knowledge of foreign languages thanks to her job as translator, Elena took the exams issued by the Province of Como and she got the license to work as LOCAL GUIDE OF LAKE COMO AND ITS PROVINCE.
Supported by her background, she works with enthusiasm and professional skill as a tourist guide in Como with individuals, groups and students in half day, full day or more days guided tours. She discloses the beauty of the territory where she lives, which is rich in historical events, art and culture.
You can choose among many itineraries: COMO and its interesting historical center, the FAMOUS ARISTOCRATIC VILLAS, the enchanting MEDIEVAL VILLAGES and the LANDSCAPES on the lake. Moreover you can select particular itineraries: Rationalism, Alessandro Volta, the cruise on the lake to discover its beautiful vil-las and the triumph of the Romanesque style.
TRANSLATOR

AND INTERPRETER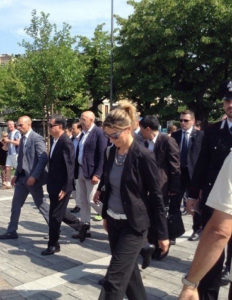 Elena graduated from the Secondary School for Interpreters and Translators and started her job as an interpreter and TRANSLATOR working with translation agencies in Como and Milan.
After a few years she specialized in the following sectors: COMMERCIAL CORRESPONDENCE, THE WEB, TEXTILE INDUSTRY and TOURISM. At present she collaborates with leader companies not only in Italy but also abroad because she supplies an overall technical assistance in foreign languages.
Together with her job as translator she has always practiced her job as an INTERPRETER, starting with fairs and congresses and traveling all over Italy and abroad. Now she has mainly devoted herself to commercial negotiations, chuchotage and language consultancy.
Since 2009 Elena is the translator of the official magazines of Lake Como: Magic Lake and What's on, quarterly printed in 30.000 copies.
Since 2001 her passion for traveling and her bent for foreign languages helped her in the organization and the realization of OVER 100 TOURS.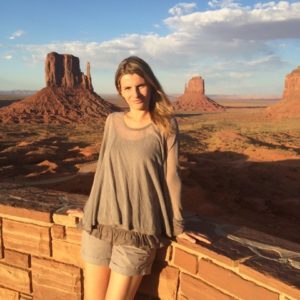 She started with Italy tours, which include Rome, Florence and Venice, then she decided to work as a tour guide at European level and she mainly specialized in tours in Switzerland, Austria, Germany, Belgium and Holland.
In the last few years she has become TOUR MANAGER and she has worked above all with American, Canadian and Australian groups.
Together with her job of tour manager, she has developed the collaboration with American tour operators and she has taken part in the organization of INCENTIVES and INTERNATIONAL SPORTS EVENTS.